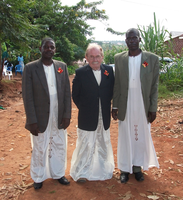 I'm in Uganda again 2 years later. I'm here mainly to supervise the Uganda Art Consortium projects and to see if I can kick-start the radio station plan. I'm also checking in with a couple of kids who I'm helping with school fees. And I'm hanging out with old friends, doing some carpentry at Kisa School and generally making a nuisance of myself. I've also filed two radio stories, one on Freedom of the press which was aired on KBCS, KPFW and KSER last week.
archived on KBCS
. My story is about 20 minutes in from the start of the program. I just filed my second story about gay rights activists in this worst place in the world for gay rights activists. It should air on KBCS June 2.
The photo is of me, Jimmy Kibuuka and Andrew Musoke at an "introduction ceremony" an important Buganda cultural tradition which takes place before a wedding.
I made a side trip to Rwanda in May, to attend the Arts in Health Care-East Africa conference with some of my colleagues from
Uganda Art Consortium
. More later.