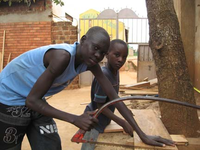 I just got back home from 8 weeks in Uganda and a week in Pakistan. In Uganda, I stayed at Kisa school and did some volunteer work there. (see recent
Photos in the gallery)

Art Workshops
I also spent time on Uganda Art Consortium business...organizing art workshops at a primary school in Namungona and at the Infectious Diseases Institute at Mulago Hospital in Kampala. Over 125 kids and 200 patients at Mulago attended the workshops. Another workshop was planned for the childrens' wards at Mulago this week, but I haven't heard yet how it went.In my luggage I brought back about 50 oil paintings and other artworks for the show in Washington D.C. at Howard University in February 2010. I'm cautiously hopeful that two of the artists, Matias Tusime and Hassan Mukiibi will be coming to Washington for the show.
The Radio Project
...to build a community radio station in Kyotera in Rakai District where the AIDS virus first appeared in Uganda...is on hold because of the riots in September. Let me explain. The week I arrived in Uganda, street demonstrations in Kampala and several other central Uganda towns were broken up by the police. Over 20 people were killed, 600 arrested, 5 radio stations shut down and more than 20 journalists arrested on sedition charges. The protests were about a dispute between the federal government and the Kabaka (king) of Uganda...a traditional kingdom that is part of Uganda. The government wanted to curtail the Kabaka's right to travel within Uganda. The protestors objected. Anyway in the wake of the riots, the govt. decided not to issue any more new radio licenses. We had applied last January for a license for Rakai Radio, and felt we were on the verge of getting it. I had hoped to spend part of my visit there doing some initial organizing work on the station. But now its not clear when a license might be issued. Govt. is clamping down hard on all media, and the ruling party is going to be on edge until after the elections in 2011. I'm afraid we might have a long wait before we get our license.
Radio Stories
While in Uganda I reported several stories which were broadcast on WPFW in Washington DC, KBCS in Seattle and KSER in Everett WA. I reported on the riots, then a separate piece on press freedom. I also produced stories on the work of a group of AIDS volunteers, and on the contentious issue of the tradition of bride price in Uganda. A group of men and women are suing in court to stop some of the worst abuses of bride price which has led to women being sold like commodities the highest bidding suitor.
Here are links to the stories:
Kampala Riots

AIDS Volunteers in Uganda

Press Freedom in Uganda
Bride Price Vs. Womens Rights in Uganda
Food Price Inflation

Tororo Wedding Music
I also produced a video of a visit I made to Tororo, about 200 miles north of Kampala of a performance of traditional wedding music and dancing by a group that was arranged for me in Magoro village near Tororo about 200 Km north of Kampala.
You can see the video
here.
Pakistan
I departed Kampala Oct. 28 and flew to Islamabad, Pakistan to spend a few days with my friend Tarik Zia and his family. Tarik is a TV reporter in Islamabad, and his wife Masooma is a teacher. They have a precocious 4-year old, Daniel. They live with Masooma's parents, Said and Saeeda Ul-Haq in a suburb of the city. Tarik took me to his newsroom and introduced me to his colleagues. I interviewed one of the reporters who had just returned from being embedded with the Pakistani army in South Waziristan conducting operations against the Taliban and Al-queda. I'll be producing a radio story on that interview later this week. Pakistan was hit by two more major bombings while I was there...one in Peshawar in a crowded market that killed 150 people and another in at a bank in Rawalpindi, a suburb of Islamabad, the day before I left which killed 35. As a result of the continued terror attacks, everybody's pretty tense. Special security measures have been taken at all schools including guards, blast walls and barbed wire. Daniel's school has been closed for two weeks because they haven't completed their security upgrades yet. There are military checkpoints on all major roads, and retail trade is down substantially.

Lahore
We took a trip about 400 Km north to Lahore, the ancient capital of the Moghul Empire, and today a bustling thriving industrial and commercial city. It's full of culture including restored palaces and mosques, Punjab University and excellent food.
One of this country's most colorful features is that almost all big trucks and many busses and other commercial vehicles are elaborately painted and decorated in elaborate traditional designs...I mean every inch of the truck inside and out is decorated, with bells hanging from the mudflaps, and elaborate prow-like structures jutting out over the cabs. So Tarik took me to visit a big outdoor workshop in Rawalpindi where the fancy trucks are built and rebuilt and painted and decorated. Here are some pictures of the painting and other work being done on the trucks. I think I'll make a video or a radio story about it when I get home.
Judging from the two urban areas I visited Pakistan seems modern and thriving and very energetic once you are outside the capital. But there are vast areas of rural poverty that suffer from lack of schools, infrastructure and social services. That's where fundamentalist revolutionaries are making their biggest strides, taking over local government...providing schools chasing down criminals, and murdering local government officials they deem corrupt or insufficiently religious. That's where the country's future will be decided. The Pakistani government has a long way to go just to win the hearts and minds of most of its own people.
Uganda: Problems and Prospects
Uganda has been hard hit by food price inflation...over 50% in 2009 alone for many staples... and many are getting less to eat and paying more for it. Wages haven't increased at all. Unemployment has increased too, though it's hard to measure because the newly jobless usually try to scrape together a little capital and peddle used clothing or vegetables or housewares on the road or at a small roadside stand. Most people have some relatives back in their home village, where they can go if things get too bad. Some of the rural areas though have been hit by drought and floods. And in the North, agriculture has never gotten back to normal after the devastation on LRA wars that ended a couple of years ago. Government is just now getting serious about forcing people in the IDP camps to go back to their home villages and plant crops. Overall, I'd say Uganda is in a little worse shape than my last visit in 2007. Most people I met are angry at the government for incompetence and corruption...anger that fueled the September riots. But I don't think the current government is in any danger of overthrow or defeat at the polls. The army was built on the guerrilla forces led by Yoweri Museveni who is now the president, and most of the generals are Banyankole like him. Museveni, of course, also appoints the electoral commission that will set the rules and certify the results of the 2011 elections.
Union Organizing Drive
One more thing...In the last few days before I left, I tried to set an union organizing drive in motion. A Ugandan friend is a field rep for a local micro lending agency. When she told me about her deplorable working conditions I got her together with organizers from COFTU one of the two national labor federations. COFTU sent six staff people including the Organizing Director and a General Secretary to the meeting with my friend. A meeting with a larger group of workers is scheduled for this week. Turns out that Ugandan labor law is pretty strong...in many ways better than our NLRB. Recognition is automatic even if only a minority of workers sign up, and there are stiff penalties for employers who trample workers rights. The wage earning labor force (industrial, teachers and civil service) is small, but 15% now belong to unions. The vast majority of workers are in the informal sector ...small retail, day labor and contract workers like security guards and taxi drivers. But COFTU is opening a major effort this year to organize these workers.
http:/ / www.bcc.ctc.edu/ kbcs/ downloads/ One_World_Report/ OWR_20090917/ OWR_20090914_Uganda-protests- TH_Edit2.mp3