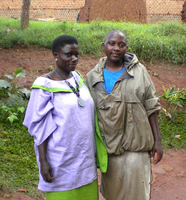 Aids is on the increase again in Uganda, despite years of effort, and strong signs that the infection rate was declining. In 2008, 7.5% of the population was infected, up a full percentage point from just 3 years ago.
The A to Zed Childrens Charity In Wakiso District works with over 400 children including orphans, children born with aids, and families struggling to escape poverty.
Aids once infected nearly 15% of the population. Hard work in the last 20 years brought that figure down dramatically to 6.5 % in 2006. Now it is on the rise again...to 7.5 % of the population in 2008.
Over half the population in this area is under 18, and nearly one in five of those children have lost one or both parents....many of them to HIV. HIV appears to be spreading most among married couples, with the result that thousands of children each year are born with HIV, and then their parents die.
Wakiso is a semi-rural area within easy commuting distance of Kampala. The population has doubled here just in the last 10 years. Several local grass roots organizations supported by international donors and NGOs have organized to help deal with the aids crisis. The groups work together to provide services and education to children and their parents dealing with HIV-Aids in their families.
A-Zed pays school fees for over 200 children whose parents cannot afford them. 200 more children are part of another A to Zed program which provides family counseling on HIV and other health problems, and financial management training and business loans for parents. One of the biggest problems for families needing health care for HIV is the simple matter of transportation to the hospital.
Volunteers work with the families to help them cope with the challenge of living with HIV Aids. Teddy Nansekka is one of those volunteers:
Teddy is one of the most successful volunteers in the program. She develops great rapport with her client families when she tells them that she too is living with aids. Teddy contracted AIDS when she was raped by a soldier during a period of intense fighting in her village in 1990. She was stunned when she learned she was HIV Positive.
Gradually, with the help of her family, her pastor, and sensitive counselors, she learned how to live with her diagnosis, and thrive and lead a fulfilling life. She's raising her own two children as well as her niece and nephew who were orphaned when Teddy's sister died of AIDS a few years ago. She supports herself selling vegetables from a roadside stand, and from hand crafted jewelry she makes in her HIV AIDS survivors group.
But she also felt a need to help others in the same situation.
Betty Muhangi is a volunteer with TAAPA another organization working to help AIDS families in Wakiso.
Muhangi thinks aids is on the increase because the government and community groups relaxed when the first declines in new infections were posted.
Muhangi says the Ugandan Government needs to increase its efforts in public education and to provide more support for groups like TAAPA and A to Zed.
Another local NGO working against AIDS in Wakiso is KIFAD. KIFAD, trains AIDS victims in new job skills so they can support themselves and their families. Many survivors of the HIV AIDS epidemic are single mothers with few job skills. Kifad just celebrated the first graduates of its tailoring class. 20 women from families hit by AIDS were trained in a year long program to be skilled tailors. A new class with 18 students started the following week
Kifad, Taapa, A to Zed and other grass roots organizations here in Uganda share the goal of empowering HIV Aids victims to take control of their disease and their lives. With funds from international donors and energy from local volunteers they are struggling to stem the growing tide of HIV Aids.
Listen to the full story on KBCS: http://www.bcc.ctc.edu/kbcs/downloads/One_World_Report/OWR_20090924/OWR_20090922_Uganda_AIDS_TH.mp3
In the Photo, Teddy Nansekka and her niece Elizabeth.