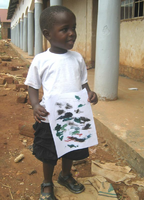 A major exhibit of new works by eight contemporary Ugandan artists will be held May 8, 9 and 10 at the Ballard Bookcase Gallery, 4611 11th Avenue NW in Seattle.
Proceeds from sales will support art classes and workshops in Uganda for AIDS patients and AIDS orphans, street children, and children and adult hospital patients.
Children are also trained in making beaded bracelets, necklaces and other jewelry they sell on the street to raise money for school fees, and buy food for their families.
Over 100 oil paintings, watercolors, wood block prints and other works will be displayed and available for purchase. Prices range from $45 for some 8x10 watercolors, to $250 for large oil paintings.
The exhibit will be the largest show by Ugandan artists ever held in the U.S.
Several artists in the show including Matias Tusime, Hassan Mukiibi and Kizito Fred Kakinda are well known to galleries and art collectors in Africa and Europe. But this will be the first exposure outside Uganda for others in the group including James Nsamba, Kennedy Baguma and Hadson Mbabazi..
The Uganda Art Consortium and its
website
were established in 2008 by Seattle area residents Tom Herriman and Rees Clark to support the charitable work of the Ugandan artists, and provide a way for them to market their artwork.
A reception will be held to open the show, 5-7 PM on May 8. Hours for the rest of the weekend are
Noon-9PM on Saturday May 9 and Noon-5PM on Sunday May 10.
The Uganda Art Consortium show is part of Ballard Second Saturday Art Walk.