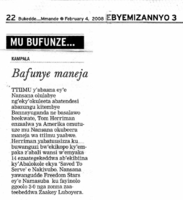 I never thought my name would ever appear in the sports pages of a newspaper unless it was mentioned that I was Erika Herriman's father. But I merited mention in an article in Bukedde, Uganda's Luganda language daily when our football team won a city wide tournament Feb. 1. The clipping is pictured above. The translation of the article follows here:
They have got a manager
The youth club of Nansana, after realizing that there are plenty of white coaches in Uganda, decided to stick on Tom Herriman, an American citizen who lives in Nansana to be their club's Manager. It's because of Tom Herriman that the club won the trophy in the under-14 tournament at Nakivubo that was organized by the Saved to Serve Foundation.
Nansana beat the Namasuba Freedom Stars 3-0, in the finals. All goals were scored by Zaakey Luboyera.
Scroll down in the Journal Previews to see earlier stories about our football team