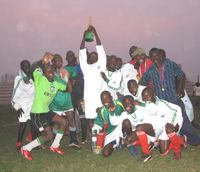 The holiday football program I started in Nansana so that teen age boys would have something to do during the long winter school holiday, blasted its way through the city-wide football tournament undefeated and won the championship game 3-0 at Nakivubo Stadium Feb. 1.
The tournament was limited to kids 14 and under, so many of the older children couldn't compete. At one point we had over 50 kids in our program ranging from 12 to 16. Training was held for three hours every day at St. Joseph's football pitch, and there were scrimmage games everyday as well as matches with some neighboring teams.
The tournament was sponsored by Saved to Serve Ministries and included 25 teams from all over the Kampala area.
Our Coach, Tom Kirunda, won the medal for best coach in the tournament; our first string goalie, Tedeo Sande won best goalie; Nansana player Zach Luberya won for top scorer (10 goals in the tourney); and Kenneth Kato won the best defender medal.
The Nansana program was open to all 12-16 year-old boys and girls in our neighborhood. Unfortunately, no girls showed up for any of the trainings. I'm hoping to find a local group to sponsor program next year.