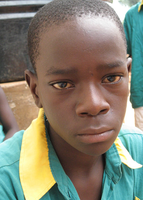 Part of the mission of Kisa Primary school has been to help destitute children who have been orphaned or whose families have been unable to care for them adequately. Uganda has over 600,000 orphaned children. Many of the parents of these children were AIDS victims. Thousands more children are victims of broken families. Often when the father leaves the family, mothers don't have the earning power to pay school fees and other child-raising expenses.
In 2007 about 100 children whose parents are dead or absent or indigent are attending Kisa Primary and the school is subsidizing the cost of their education. In some cases where the families have no resources at all, Kisa pays all the costs. In most cases, the school covers part of their costs. The cost of providing room and board for one student is about $40 per month.
Following are the personal stories of some of the children who are currently attending Kisa Primary:
Alex B.
When Alex's father died, relatives evicted his mother and her children from the house they were living in. The mother sells vegetables in a road side market, but doesn't earn enough to pay school fees for Alex and his two younger siblings.
Alex S.
Alex is a bright student who is good in math and science. He wants to be an engineer. Alex's Father died of tetanus resulting from a gunshot wound when Alex was five years old. His mother died a year later of aids. Alex now lives with an aunt and uncle who have 5 other children, and have trouble covering school fees for all of them as well as Alex. His family was able to pay about 2/3rds of Alex's school fees in 2007.
Jane
Both of Jane's parents died of aids. She lives with a cousin who has three children, but the cousin could not care for Jane's two younger siblings. Her brother and sister live in the village with their grandmother who is disabled. Jane helps out with household chores such as hauling water and weeding in the garden. The family grows much of their own food including bananas, beans, sweet potatoes and cassava. An uncle helps pay for food for the family. There is no money for school fees.
Jennifer
Jennifer has both a mother and a step mother. When Jennifer's father died, her mother married a man who already had one wife and several children. Jennifer reports that the step mother resents Jennifer's presence in the household and abuses her verbally, when her mother is at work or away from the home for other reasons. She says her stepmother has threatened to kill her. The step-mother withholds food from Jennifer. Jennifer's mother works in a hair salon, but doesn't make enough money to pay school fees.
Regina
Regina was first or second in her class for the last two terms. Her father died three years ago. Her mother is a teacher, but has trouble keeping up with school fees and other family expenses. She comes from a supportive family. "At home they tell me I have to work very hard so I can build my future," Regina told me. Regina has been getting financial help from an uncle, but the uncle's three children have been hospitalized for several weeks with an undiagnosed illness. Now the uncle is asking Regina's Mother for financial help. Regina wants to be a doctor.
Samuel
Samuel is fourteen years old and is in P5. He's good in math and social studies and wants to be a lawyer, "So I can help families like mine who don't have enough money to live properly." His father died in 1996. He lives with his mother and grandmother. His mother raises groundnuts to sell in the local markets which helps pay Samuel's school fees.