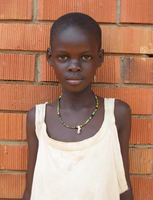 Uganda school children have an absurdly long winter break from school…most of December and January. So I helped to organize an art class and a soccer program for kids in the neighborhood.
The art class was held here at Kisa school and was conducted by a group of artists who have a studio nearby in Kasubi. They volunteered their time, I paid for the art supplies. The artists want to start doing this as a business…offering art classes to schools…so this was their pilot project. We put together a flier, then James, one of the artists and I, walked around the neighborhood and talked to groups of kids to recruit them. About 25 showed up for the three days of class. The kids made beaded jewelry and woven bracelets as well as drawings and paintings. Check out the "art school" album in the gallery for some scenes of the school and some of the kids' work.
At the end of last term, some of the boys wanted to sign up for a holiday football (soccer) camp in Kampala. But it was so expensive only a few would be able to go, plus the headache of transportation to and from Lugogo every day…about 15 km. So I thought it would be better and cheaper and include more kids if we could have our own holiday soccer program here in Nansana. So we hired a coach, bought a bunch of balls and jerseys and little traffic cones for line markers, and set up our own soccer camp. Today is the first day. 25 boys showed up for the first day. Girls are welcome too, but none have shown so far. Habit and tradition keep them away, I think. They just assume they wouldn't be welcome, and that they'd have to struggle to take part. We didn't anticipate there would have to be a special recruitment effort to get girls to play. We started out on a play field near the school, but we're moving tomorrow to a better field over at St. Joseph's church. The soccer camp is for three weeks, 5 days a week, 3 hours a day. Supplies for the art classes cost less than $100. The soccer camp will cost about $400.