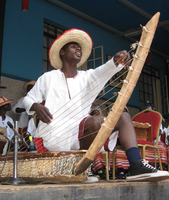 Journal 20080102
We're keeping a close watch on the Kenya crisis. Two days ago CNN reported that Kibaki the Kenyan President was in Uganda. The next day, there just happened to be forty Kenyan soldiers attending the New Years Day service at St. Joseph's church in Nansana. Because of the Kenyan blow-up gasoline deliveries to Uganda from the Port at Mombasa have stopped, and gas has doubled in price...now 4,000-5,000 shillings around $3) per liter, and is getting very scarce.
The holidays around Nansana were pretty low key. Of course all the schoolchildren were on holiday. Even most of the orphan children had aunts or cousins or older siblings to spend christmas with. Of the resident staff, many went to Masaka, to the family homestead. Lwanga went to Kabale in Western Uganda to visit relatives. When he returned he was driving a 4 wheel drive Toyota diesel pick-up which he had acquired by trading his station wagon. One night I took a gang from Kisa to a beautiful place called the Ndere Center in Kampala to hear an African jazz concert.
On Christmas Eve, there were only a dozen people still around the place. We watched holiday shows on TV, and I passed out cookies and candy canes. On boxing day, I was invited to dinner at the home of my novelist friend Moses Kiganda and his family.
The next night I went to hear traditional music at the Grand Imperial hotel, one of the great monuments of colonial era Uganda. A friend, Peter Kayango (photo)was the ndugu player. Since there were no classes, I got a lot of work done on non-academic projects. I'm putting up a website for selling African art to help to groups of artists I met in the area. It will be up and running in a week or so. I'm also editing the manuscript of a young Ugandan aspiring novelist. I'll post a chapter here in a few days. The story is set in the war of rebellion that is just now winding down in Northern Uganda. I also repaired an old junk bicycle I found in the garage. But it has a solid plastic molded seat, so riding on local roads is like sliding down a long flight of stairs on your behind. I'm still sore from the one 5 mile ride I had on it. Also, I painted the wooden shutters on the classroom building a bright green with yellow trim. It really spifs the place up. One of the college students, Patrick, has been giving me Luganda lessons for the past two weeks, so I can offer several kinds of greetings to people I meet, and ask for boiled eggs in the morning. Classes don't start again until February, so this month I plan to produce some radio programs and send them to the US and to develop some news stories on the school system and press freedom in Uganda, and to get ready for my next term classes. I'll be teaching public speaking, and I hope producing the play we started last term.