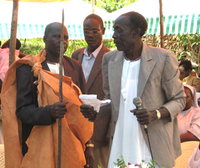 Journal 20071220
A Family Gathering in Masaka
And a visit to the northern war zone
We have been traveling. First, Gretchen and I spent two days at a lovely eco-friendly resort on the Nile overlooking stunning whitewater rapids. There was an incredible variety of birds, and Gretchen was in birdwatcher heaven.
Last weekend we went to Masaka (about 200 km south of Kampala) for the funeral and succession ceremony of the head of Rafael Kibuuka Mukasa, head of the Kibuuka family. Rafael was Jimmy Kibuuka's father, and Lwanga's brother. A new Omusika or family head was installed at an elaborate ceremony that included a catholic mass, and passing of spears and bark cloth garments (photo). The Kibuuka family is part of the Mutima or Heart clan, one of 52 clans that make up the Kingdom of Buganda. There are several thousand families in each clan.
Dick Kibuuka Luswata the eldest son of the deceased was selected as the new Omusika in a big family meeting the night before the installation ceremony. Nearly 1000 people attended the gathering, which was held at the family homestead in a Butebele, a rural village south of Masaka surrounded by banana and mango groves and fields of millet, cassava and sweet potatoes. Preparations for the gathering which have been going on for months included cooking mountains of food, brewing banana beer, and building big stick and polyethylene tents. Celebrations including music and dancing went on all night long Friday after Dick was selected as heir. Most rural families keep their relatives close by, even after death. The grave of the late Rafael Kibuuka was just a few feet away from the site of the succession ceremony. And his parents rest in graves in a banana grove just across the road.
We returned to Nansaana Saturday afternoon and the next day set out at 8AM for Kalongo, a 6 hour bus ride plus a 4 hour car trip north of Kampala. Kalongo is in Pader District where the guerrilla war instigated by the Lord's Resistance army has been winding down. Peace talks between the rebels and the government have been going on for several months, and President Museveni today announced a January 31 deadline for conclusion of the negotiations. The rebel's tactics included attacking villages to steal food and kidnap children to enslave as soldiers, menial workers and sexual partners for the soldiers. In the attacks, thousands of civilians were murdered, maimed and tortured in the most brutal fashion. Lips ears and limbs were hacked off with machetes, and women who were not taken captive were gang-raped and murdered. Over 3 million people were turned into refugees as villagers fled their homes to escape the terror.
The main purpose of the trip was to visit the IDP (internally displaced persons) village in Kalongo which once housed 60,000 refugees. The population is now down to about 17,000 as more villagers return to their former homes. In Kalongo we interviewed 5 young people who had been kidnapped and forced to serve the LRA for periods up to several years. Over 200 kidnapped children are still being held by the LRA. Their release is one of the conditions being negotiated in the peace talks. I'll publish excerpts from the interviews here as soon as I've had a chance to transcribe and edit them, and I'll produce some radio news reports based on our trip.
On the way to Pader we visited Radio Palwak in Rackoko a community radio station financed by Dutch and Australian donors that broadcasts to over 3 million people in a wide area across Northern Uganda. The station has state of the art equipment including a 200 foot tall antenna, and excellent meeting rooms and studios. They carry a mix of community news health and agriculture advice, community discussions and music.